Codes of Conduct
This is the stated goal for players, parents, and coaches. Although we may occasionally fall short, this is what we strive to be on and off the field. It is the very foundation upon which the club was established.
PLAYERS Code of Conduct
Show respect for all associated with the game: teammates, opponents, referees, coaches and parents.

Build up not put down others.

Play hard, but play by the rules, whether the referee is looking or not.

Absolutely no cussing ever!

Sitting out of practice and/or games can be the consequence of violation of the code of conduct or lack of effort.
PARENTS Code of Conduct
Show respect to all associated with game: our players, the other team, referees, coaches and parents.

Build up not put down others.

Absolutely no cussing ever!

If there is a concern about a coach or the team, the parent should go to the coach to discuss the concern privately (not before or during a practice or game). If the concern is not adequately resolved, Jeff Dybdahl or another third party can be brought into the discussion to aid in resolution. It is destructive to the team and always inappropriate to criticize the coach or the team on the sidelines before, during or after a game, or in any private conversations at any time if the coach is not present.
COACHES Code of Conduct
Show respect for all associated with the game: our players, the other coaches, referees, and parents.

Build up not put down others. Coaches will not raise their voices to chastise players. Coaches will not degrade players, or allow the degrading of players by others. Coaches will correct, teach and discipline with a spirit of encouragement.

In most games, players will be given at least (approximately) half a game of playing time.

Absolutely no cussing ever!

Coaches must speak and act as they want the players to speak and act. A coach can have a very positive or negative impact on the life of a player.
This is a map for players, parents and coaches. Without a map it's easy to get lost.
Furthermore ...

Club goal: no red cards. Ever.

ABOUT THE DIRECTOR
Jeff Dybdahl is the club director for the WASA Eagles FC. He is responsible for giving direction for the club, selecting and mentoring coaches and helping the individual teams attain their goals. In addition, he is head coach of at least one of the teams within the club at any given time, leads various camps and clinics and offers goalkeeper training sessions to the club during outdoor seasons.
Jeff played varsity soccer all three years in high school on a perennial top 10 team in the state of Minnesota. In college he was the goalkeeper for the University of Wisconsin Platteville, where he was his team's captain, won his team's most valuable defender and most valuable player awards, and was named to district and regional teams.
Since moving to Ohio, Jeff has coached at the youth, middle school and high school levels. Teams he has coached have won numerous league and tournament championships. However, his greatest desire is to help boys and girls develop to their maximum potential as players and persons.
Jeff is married to Cathy, and has four children, Jeremy, Michael, Daniel and Mary. The boys are all soccer players and Mary has followed Cathy's path into gymnastics. As one who is living through the select soccer experience as parent, Jeff is sensitive to the importance of family factors in our philosophy as a select soccer club.
A MESSAGE FROM JEFF DYBDAHL
Greetings! As you get to know the WASA Eagles as one who has become a part of the club, or if you are just checking it out, I would like you to know a little bit of how and why the WASA Eagles came to be.
My oldest son was coming off of three difficult years of select soccer. He had considered quitting numerous times. My second son was ready to begin playing select soccer. I did not want him to have the same negative experiences as my first son. I wanted my son to play on a team where they developed skills and did not just play kick and run soccer. I wanted a situation where players were built up and encouraged. Where they had fun. Where there was no way coaches were motivated by money. Where parents had the final say in decisions about tournaments and travel. I looked around and did not find a good option for my son. I decided to start a select team.
In the fall of 1997, we started with two teams because of the large number of select level players at tryouts. As time went on, my third son was ready for select, so I added a team for his age group. Simultaneously, people began to approach me to start additional teams, and finally I was urged to start a club. In 2002, we added girls teams to the club. What a surprise and joy that we now have so many girls' teams.
I share this background to help you understand two things. First, I never intended to start a soccer club. So the WASA Eagles FC is not about me or any other coach. Second, the WASA Eagles FC began as an effort to help young soccer players have fun in a safe and encouraging environment while being given the opportunity to maximize their soccer potential and learn important lessons in how to be a winner in life. Every year I want the WASA Eagles to get better at these things.
Time passes quickly. Not too long from now, our WASA Eagles will be adults looking back on formative years with the WASA Eagles. I think a lot about how I want them to remember their experience, how I want them to remember me and our coaches and our parents. I want to give my best to making those memories to be filled with joy and fun and positive, life shaping influences. Lets go for it!
Jeff Dybdahl
----------------------------------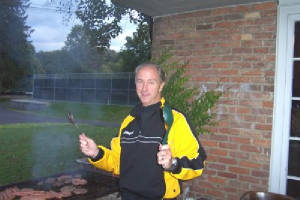 Jeff D flipping burgers at an Eagle BBQ.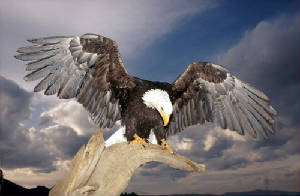 Eagle Vision for Game Day - TNT
THERMOSTAT
NOT
THERMOMETER
In the select soccer world, we can be like a thermometer and adjust to the temperature or environment around us. Or, we can be like a thermostat and adjust the environment around us. The vision for the WASA Eagles parents, coaches and players is to proactively create an encouraging and respectful environment around us. With this in mind we expect the following traditions to be implemented and maintained by all associated with our club.
COACHES
Before every game introduce self to referee and say thank you for being here.

Before every game greet the opposing coach

During the game, only the head coach addresses the referee and only in a respectful manner

Maintain a respectful attitude with all associated with the game or tournament

Players are only positioned or instructed or encouraged while on the field ... never are they degraded
PARENTS
Before and after game parents give high five as team runs by

For parents that like to be vocal during the game: set a goal of letting every player on the team hear his/her name and encouragement from you

NO talking to the referee

NO arguing, disagreeable or demeaning discussion with parents of either team

NO criticism, coaching or correcting of ANY player
PLAYERS
Run on the field before each half and run off at the end of each half

When scoring a goal, rather than celebrating in a way that draws attention to yourself, immediately find the person who assisted the goal, give a high five, say thanks and go to the center circle to greet your team with high fives

NO NEGATIVE comments to or about your teammates, the other team or the referee

Try to say something supportive to every teammate during the game